We where at the dutch fair Solar Solutions 2014 at the Expo Haarlemmermeer. Lots of interesting technology for mounting solar systems, as well has hybrid pv-thermal panels (two types).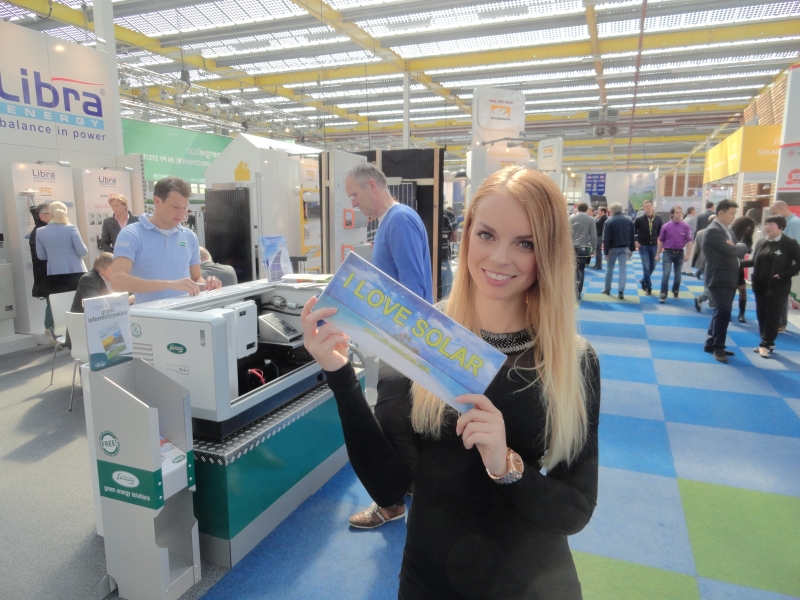 Expo hostesses..
She's a real model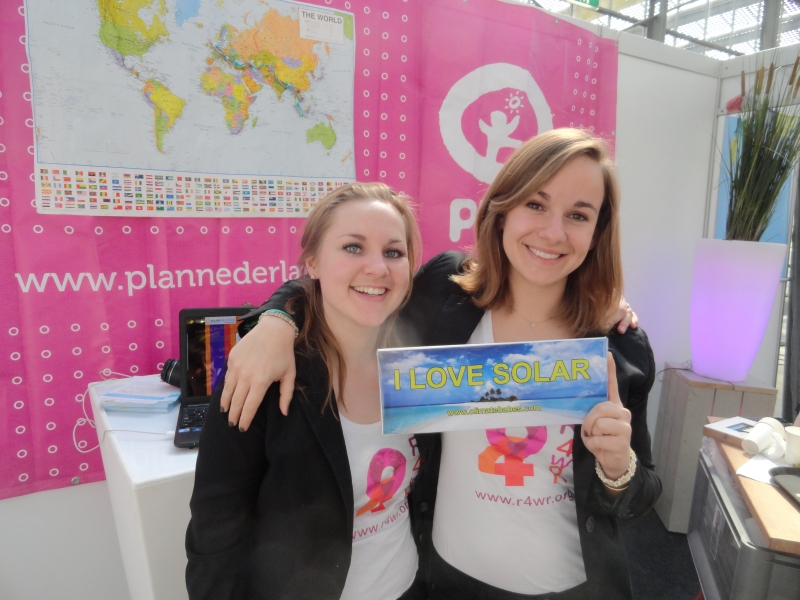 Girls of r4wr.org who will cycle from Jakarta to Amsterdam for womens rights!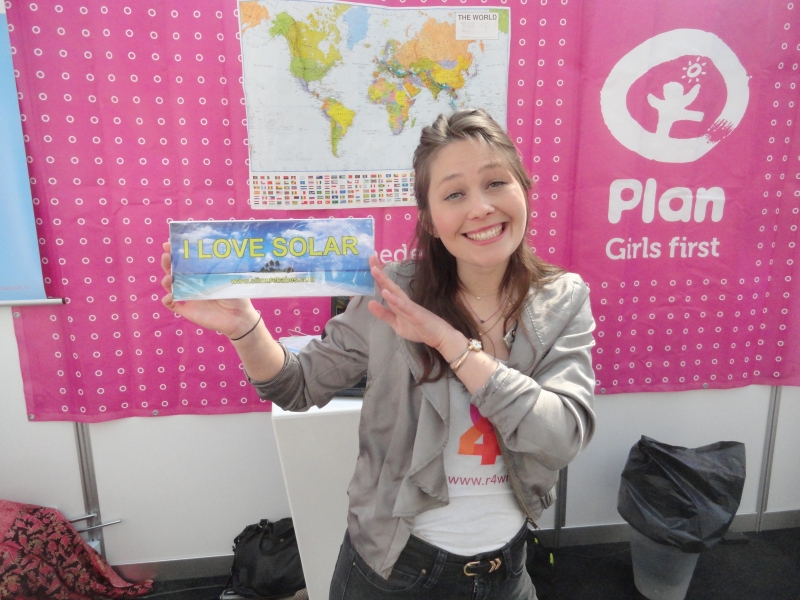 You can find more pictures here. Invite us to your event!
We werken al een tijdje aan een crowdsourcing methode met een twist, namelijk een waar tussenpersonen geen rol spelen. Dit betekent dat de kosten een stuk lager zijn dan gebruikelijk. De methode is gebaseerd op onderhandse leningen, dat zijn leningen tussen mensen zonder notariele stukken, echter wel met een contract. Het contract kan bij de belastingdienst worden geregistreerd en in sommige gevallen kan de lening en aflossing zelfs van de belasting worden afgetrokken.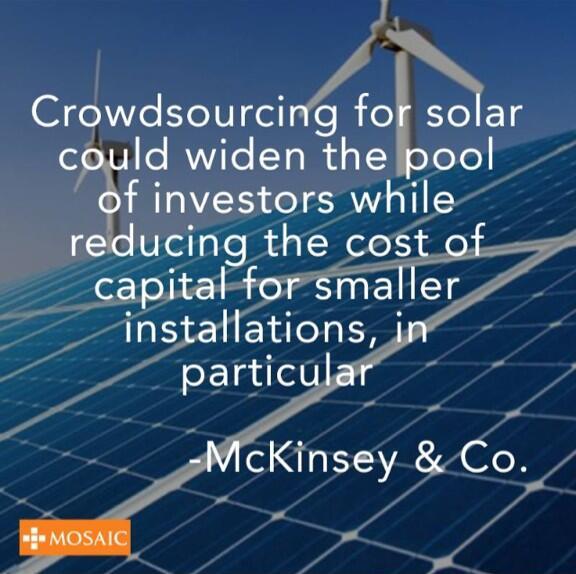 We zoeken mensen die met de buren hun zonneinstallatie willen financieren door directe leningen onderling. Wie geinteresseerd is kan zich inschrijven op zonleningen.nl . Wij nemen dan contact met u op.
Zonleningen
Zonleningen zijn leningen die u direct van een ander ontvangt. Dit kan zomaar, maar ook met gebruik van een contract. In het contract staat precies hoeveel geleend wordt, door wie en wat de rente moet bedragen. U tekent het contract met uw financier en bent vervolgens de rente schuldig, of kunt op gegeven moment de schuld aflossen (door de 100 Euro terug te betalen).
Stel u heeft ruimte voor zonnepanelen. Dan kunt u zich bij Zonleningen registreren. Daarop maakt zonleningen een kosten raming binnen uw budget. Dit resulteert in een bedrag dat het zal kosten om bij u een installatie aan te brengen (kunnen zonnepanelen zijn, maar ook bijvoorbeeld isolatie).
Stel de kosten van de door u gewenste zonnepanelen zijn 4000,- Euro. Een deel betaalt u zelf, dus dan rest bv. 2000,- Euro. Deze verdelen we in 20 contracten van 100,- Euro. We rekenen vervolgens het rendement op uw panelen uit, dat is bv. 8%. We bieden de leningen aan tegen een rente van 5%. Er zijn nu 100 leningen van 100 Euro tegen 5% te koop. Mensen die interesse hebben kunnen zich inschrijven. Ze kunnen de contracten reserveren.
Als het volledige bedrag aan leningen voor uw installatie is gereserveerd wordt over gegaan tot betaling door de mensen die u geld lenen. Deze betaling gaat direct richting de leverancier van uw installatie. Wordt het volledige bedrag niet betaald binnen de gestelde termijn dan wordt al het geld terug gestort. Om meer zekerheid te hebben wordt een reserve pool aangehouden. Mensen die betalen sturen tevens getekende contracten op. Is de betaling compleet dan moet u die contracten tekenen. U heeft dan 20 contracten met verschillende mensen die u verplichten rente te betalen over de lening of deze af te lossen.
De installatie wordt geinstalleerd en u heeft hier financieel voordeel van. Elk jaar wordt u gewaarschuwd dat u de rente moet betalen aan uw financiers. U kunt die rente echter aftrekken van de belasting, dus u betaalt minder! Als u wilt lost u een of meerder contracten af. Zonleningen houdt bij wie welk contract heeft. U heeft uw installatie en uw financieer heeft een hogere rente dan elders.
Zonleningen werkt op basis van vertrouwen, het is de keuze van uw financiers om in uw installatie te investeren. Kunt u de rente niet betalen dan zijn maatregelen mogelijk, maar meestal zijn de kosten voor u een fractie van uw inkomen. Doordat het om veel kleine leningen gaat is het risico gespreid. Zonleningen treed niet op als bank dan wel incasso bureau, maar kan deze wel inschakelen.
In eerste instantie zal de installatie door zonleningen zelf geleverd worden. Het kan ook voorkomen dat zonleningen de offerte voor de installatie uitzet aan de laagste bieder.
Interesse? Registreer voor de pilot bij zonleningen.nl
Update : Article in WaterWasteWater
As the UN spells out for those that can read that humanity is facing extinction due to our economic groth ambitions, the dutch company Dutchrainmaker offers a solution. The company builds a wind driven condensation based water generator that can make up to 7,5 m3 of water a day! A demo runs in Kuwait at the moment.
The source of the water this mechanism traps is the air, so humidity has to be at least normal for it to function. But there is more to say about that, due to another dutch decendant, Peter Westerveld. He pioneered a simple but super effective method called 'contour trenching' to catch rainwater into the ground. His method is so effective it trippled the harvests in Mali, where it found wide adoption. Funnily enough succesfull greening this way requires cattle herds..
Peter Westerveld also pioneered thought about the tree based water cycle. He observed clouds form above trees, the type of clouds we will see less and less off due to the warming climate. If it is known how much water will be recycled above a given amount of trees a 'water conveyor' belt can be formed, transporting water by wind over a belt of trees. Click here to see a video about climate engineering.
A way to transport more water into dry regions can thus be designed using wind to generate water, and trees to grow and create microclimates that further transport the water. The Dutchrainmaker and Peter Westervelds methods can make this happen.
We had contact with the builders of the dutch rainmaker, asking how much the turbine you see in the picture above costs. It is (was) about 10.000. This is due to the mechanical nature of the technology, it's not high tech, it does not use rare earths. Sadly the plan was to build a version costing about 700.000 Euro, meaning it could only be build using credit, and it would likely create a local 'water economy'. This would never work to fight climate change. The search is thus for people willing to build these devices for small scale use, the scale sufficient to grow trees.
Of course they would only have to be used in the beginning, to generate an adequate reserve and help the trees get a good start. Later the trees would keep themselves watered.
Update: It seems like Utah could use some contour trenching to retain flood water, which would change the landscape significantly!
This is one of our 23 Solutions..
| | |
| --- | --- |
| Economics | Extraeconomics |
| Intl law | No outside legal control |
| Driven by banks | Designed |
| 'Free market' | Closed system |
| Exploit and Forget | Overproduce |
| Fossil fuel dependent | Renewable dependent |
| Bank credit and debts | No bank credit or debts |
| Goal is Profit | Goal is CCS |
| Protected by MIC | Protected by UN? |
| Global dependencies | Local autonomy |
| Patents | No restrictions on tech |
Many economists are telling us we need to tweak the existing carbon based economy to regain 'momentum', 'kickstart it', and 'allow growth'. The truth is we are not facing an crisis of the economy, but a failure of the principles of econmic thought. The reason is dead simple : Peak Oil. If your economic activity, the production of goods and services, is almost 100% dependent on fossil fuels than shortages will mean less production, less goods, more poverty and a crisis.
"The clathrate gun hypothesis is the popular name given to the hypothesis that rises in sea temperatures (and/or falls in sea level) can trigger the sudden release of methane from methane clathrate compounds buried in seabeds and permafrost which, because the methane itself is a powerful greenhouse gas, leads to further temperature rise and further methane clathrate destabilization" (source)
This 'crisis' has been dealt with by empoverishing whole countries, like the US, Greece, Italy, Spain. This drives down consumption of fossil fuels and thus allows other countries to continue unabated. At the same time attempts are made to free up alternative sources from tar sands and fracking well, with the ultimate aim to mine clathrate gas, which is not considered fossil fuel. Clathrate is ice containing methane, which is found in the cold deep waters or in the ocean floor. The methane is about to be released anyway as the oceans warm, so why not mine it and burn it in the time humanity has remaining on this planet.
Credit is an anomaly
The reality of peak oil and the redistribution of oil resources around our planet, means that we have to base our society on alternatives or witness its gradual decline (dubbed the 'economic crisis'). Economic forces are intrinsically dependent on fossil energy, in such a way that the whole theoretical framework simply doesn't work without it. This is because it assumes credit has value (meaning productive value) whenever it is created, without specifying how this productive value is achieved (assumed : with the use of fossil fuels). A person receiving credit from a bank never finds himself unable to buy fossil fuels with that credit. What if someone goes to a baker, pays him with credit money but the baker can not use the credit to buy fuel for his oven? Or what if a bank lends money to a truckdriver that can not use it to buy diesel for his truck? Credit would be worthless. This dependency is ignored by economists. The argument is always "Well, the price of oil is low", but that does not adress the reality : Without the oil for sale everything would collapse.
Economics only works if there are enough fossil fuels, it is a fossil fuel marketing strategy
Economic Imperialism
To escape from this fundamentally insecure paradigm is impossible, the money and principles in it always assume resources, products and services will be brought to market. This is not necessary for people to live in peace and prosperity. Traditionally only a surplus will be brought to market. As long as everyone participates in the production of wealth there is no reason to explicitly trade or hoard or exclude anyone from the wealth produced. Economics as we know it never allows this 'disspation' of traded value to occur, because it is all about bringing everything to market, even against the interests of producers. Why? Because fossil fuel based credit can always do something with resources, the credit can always be created (its paper or digital), and by using the credit any product can be stolen by those that create it. Carbon credit economics is a defacto instrument of imperialism.
Example of a construction that can allow food to be grown in desert areas, once it is build it will produce just like fertile land.
Extraeconomics
So how can you enjoy wealth without the risk of it being distorted, exhausted or ransacked by a sudden appearance of large amounts of money? The answer is Extraeconomics. Extra means 'outside', 'beyond' and this is what en extraeconomic zone is, it is out of reach of economics, because it is out of reach of currencies, credit and other financial tricks. There is a real need to define such a term because it is so accepted to think in economic terms, people do not realize they are implicitly marketing fossil fuels. For an observer of renewable technology and the fight for more ecologically sound strategies it is obvious only complete severance of economics can secure alternatives.
Principles of extraeconomics
Two scenarios for extraeconomics can be envisioned : One is embedded in an economic environment, the other is as a seperate autonomous zone.
To act extraeconomically in an economic context simply means you produce and trade wealth without using currency, credit or going to an anonymous market. You produce vegetables you eat or trade with your neighbours, you produce energy with a turbine or solar panels you own, you take care of others so they don't need to hire anyone and in return you recieve services you may need. The more you act extraeconomically the less money you need and the more productive the community around you will become. This kind of activity is fought by companies married to economic principles, for instance by making it illegal to grow your own vegetables without registration, or introducing other rules that allow what you do or how you help others to be quantified, accounted and controlled. Usually this is done against a threat of terrorism, illegal activity, health risks etc. Although health risks can be valid, this does not mean activities have to be prohibited.
If it is possible to act extraeconomically outside the economic context something peculiar happens : It becomes possible to accumulate 'valuable' resouces, because they are not valued as they are produced. If we consider a forrestry initiative that builds irrigation and plants trees over a growing uninhabited territory, the trees would normaly represent value and attract exploitation, but in the extraeconomic context they do not if the extraeconomy can function without exploitation. This shows that an extraeconomic zone can reverse CO2 emissions and bring about other environmental benefits while keeping it's citizen alive and happy. It is clear extraeconomic zones need to be designed to work, and then stricktly monitored and protected against exploitation.
Economic constraints on location
Economic activity can only occur in places where people like to be, where oil can reach and to the extend oil is available. If oil was limitless like solar energy there could be big cities and lush green meadows in the dryest desert. It is clear this is not the case because the credit created in the system is limited to the amount of fossil fuels that can be burned, and that amount (compared to solar) is tiny. So a place like Dubai only exists because of large donations of oil, and it seems to be designed to demonstrate the bounty that can be gained by adhering to economic principles. Such a city is not profitable, it brings no wealth about by itself, but it enables the primary owners of oil and gas in the region to enjoy their riches, which makes a lot of sense. Only where resources can be gotten we see economic investment, but even that can be limited : Why mine the Congo if you only have fossil fuels to keep the West functioning.
Extraeconomic activity is only constrained by the renewable resources available where one plans the activity. Large parts of the African deserts have water underground, ample solar above, so extraeconomically the sky is the limit. Other parts of the world are equally viable once exploitation is off the table, the largest area of potential are the oceans. Our 'Pacific Forrest' project aims to create incremental amounts of biomass on the ocean, using only sunlight, water and nutrients found in the deeper ocean layers.
Coal consists for a large part of trees that fel layer upon layer in swamps millions of years ago. In the oxygen poor muddy water the trees carbonized and sank, storing carbon, shifting the balance of CO2-O2 towards the oxygen side. Many billions of terrawatts of solar energy where thus stored, the atmosphere cooled new organisms that thrived in the cooler climate took advantage.
As CO2 rises O2 drops
Since humanity discovered this store of energy it has been rejoining the carbon with oxygen from our atmosphere, with many effects, the most important of which is the rise in CO2 and warming of our atmosphere. It will, as the IPCC predictably concludes, cause widespread hunger and drought. Our inability to halt carbon pollution means many people will die.
Expressing all the damage in terms of money is senseless, because who can tell if money has any value by the time the situation deteriorates. What does a 100 dollar bill buy in a Mad Max world? Money in our society equals fossil fuels, which we can allocate towards the goals we want using our money. Sadly, we won't have fossil fuels by the time we start experiencing hardship from climate change, because peak oil is already years behind us, and we might not be given access to it. The solution to climate change can not be 'economical' it has to be renewable energy based, so called 'extraeconomical'.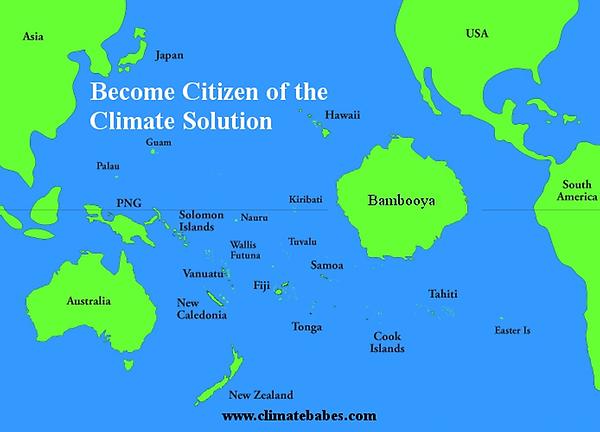 One solution we have looked into and believe will add greatly to help the hardest hit is to develop methods to grow trees on the ocean. We called this project Bambooya before, which is about building an island of either bamboo, mangroves or plastic bottles, but the growth strategy for the island requires a slightly different approach, namely trees growing on the water with specific spacing, to maximize growth and minimize use of materials.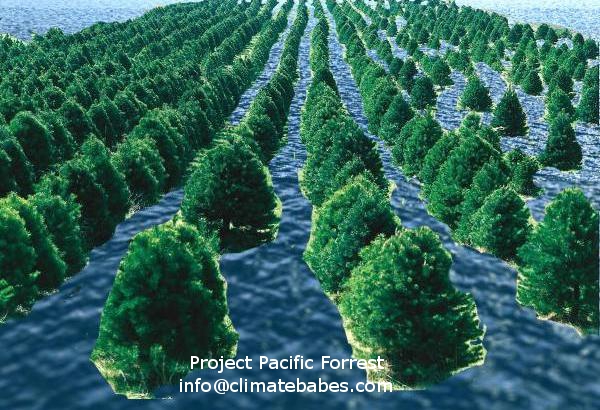 Growing trees, or bamboo if it's possible, in the pacific, allows organic expansion of the program, as well as added opportunities to grow seeweed, fish and other usefull materials in an area that normally does not produce anything. It allows incrememental capture of carbon for sequestration with next to no limit. The trees can be carbonized to recuperate the nutrients, and possible generate gas and other chemicals that are usefull for the necessary infrastructure.
There's a hell of a lot of sun falling on our oceans. The more we reflect the better we will fare..
We have done detailed analysis and would like to start development of methods to grow bamboo and trees at sea using renewable energy and organic materials. Questions : info@climatebabes.com
Calendar
Blog Administration